What is a medical device?
The EU Medical Device Regulation (MDR) gives the following definition of a medical device:
Any instrument, apparatus, appliance, software, implant, reagent, material or other article intended by the manufacturer to be used, alone or in combination, for  human beings for one or more of the following specific medical purposes:

diagnosis, prevention, monitoring, prediction, prognosis, treatment or alleviation of disease,
diagnosis, monitoring, treatment, alleviation of, or compensation for, an injury or disability,
investigation, replacement or modification of the anatomy or of a physiological or  pathological process or state,
providing information by means of in vitro examination of specimens derived from the human body, including organ, blood and tissue donations, and which does not achieve its principal intended action by pharmacological, immunological or metabolic means, in or on the human body, but which may be assisted in its function by such means.

The following products shall also be deemed to be medical devices:

devices for the control or support of conception;
products specifically intended for the cleaning, disinfection or sterilisation of devices as referred to in Article 1(4) and of those referred to in the first paragraph of this point.
In addition to this definition, Annex XVI of the MDR includes certain products that also explicitly fall within the scope of the MDR. These are products that do not have a medical purpose but are similar to a medical device.
Is my product a medical device?
The flow chart below will help you determine whether your product is a medical device. To determine whether your software is a medical device, you may use the EU fact sheet.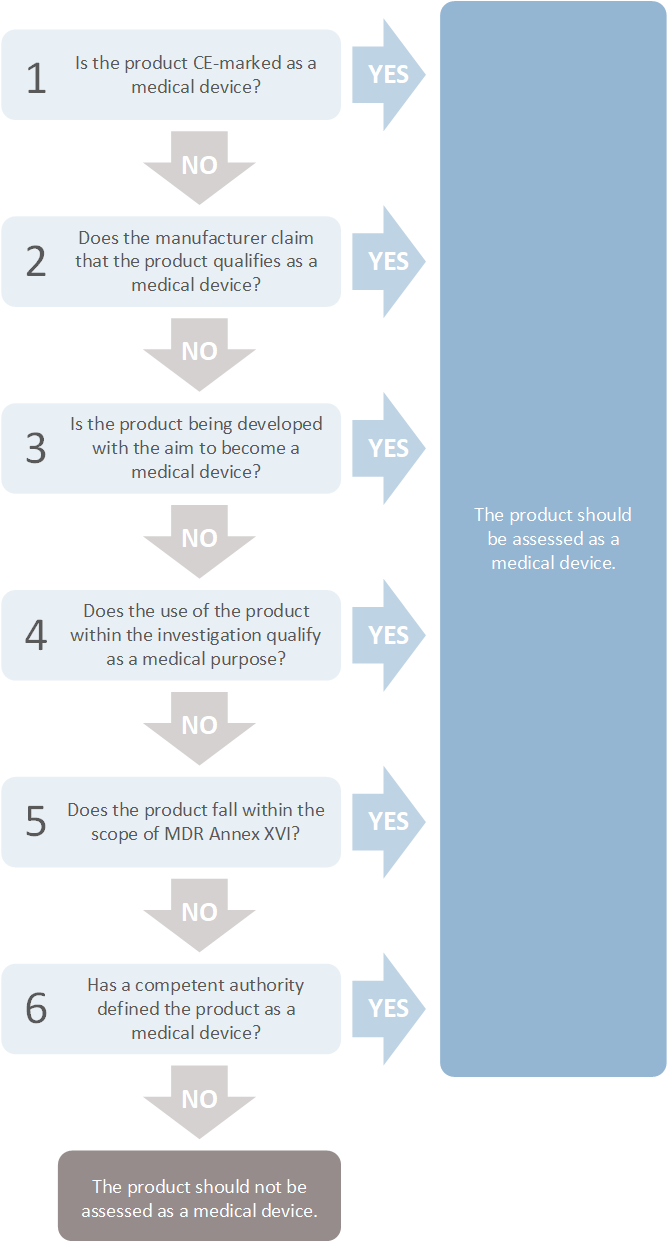 Medical device with a medicinal product
Products that physically combine a medicinal product or medical substance with a medical device fall either within the scope of the MDR or the EU Clinical Trial Regulation (CTR). The intended function of the medical device determines whether the MDR or CTR applies.
Is the effect of the medicinal product the most important? Then the combined product is considered to be a medicinal product and clinical investigation with the product falls within the scope of the CTR. In such a situation, the medical device must also meet the relevant safety and performance requirements of the MDR. Is the medical device not physically combined with a medicinal product? Then the medical device falls within the scope of the MDR.
Combined medical devices
When multiple medical devices are combined, the manufacturer must clarify whether it is a single medical device or a system composed of multiple medical devices.
Doubts
If in doubt, please contact an accredited MREC. Please include a description of your product and the intended purpose of the product in your question.